Wish to find breakthrough against deadlock of administrative and financial reform by letting their staffs get accustomed to changes by accumulating small but meaningful success.
Mr. Hiraku Sumimoto
Section Manager
Administrative Reform/Public Facility Management Promotion Group
Planning and Policy Division
Local Government of Kakegwa City
Mr. Hironobu Suzuki
General Staff
System Information Section
IT Policy Division
Local Government of Kakegwa City
Mr. Toru Sato
General Staff Assistant
Informatization Promotion Section
IT Policy Division
Local Government of Kakegwa City
Upon fully dispelling antipathy or deadlock, the local government wish to promote administrative and financial reform (KAIKAKU).
The city of Kakegawa has been tackling with administrative and financial reform (KAIKAKU) aiming to sustainable operation of government towards the realization of "the city with full of hope in which everyone wants to reside", However, due to both antipathy against new challenges and the reduction of human resources whilst retaining the volume of works, we saw a kind of "disgust against reform and feels of deadlock" in our local government. As such, we wanted to overcome such a reluctant atmosphere.
Wish to abandon passive reforms rushed by the administrative department
In our conventional reform, the administrative department took the initiative to achieve workforce reduction, subsidy cut, and so on. Whereas, we noticed staffs are passive in some cases and also recognized distortion due to such off-the-shelf reforms. We realized, in order to take next step, our staffs need to be involved in the reform more positively.
By showing visible achievements, we wish to have our staffs pay more attention to spontaneous reforms
We thought we can get more cooperation from the workplaces not only by reviewing the workflow or to devising Excel sheet, but by adopting a new tools as a symbol of our initiatives. To achieve this, based on the mandate that we should emphasize it can be quick-acting, flexible, and able to give back visible achievements to both citizens and staffs in workplaces, we focused on RPA that has been deployed in other local governments.
Points of the issues
POINT

01

Need to reaccelerate our KAIKAKU, which showed a sign of being stuck

POINT

02

Need to change our KAIKAKU from the passive one to more spontaneous one

POINT

03

Need to raise our staffs' interests by exploiting a quick-acting and flexible tool
Realizing KAIKAKU with profit sharing among all stakeholders, such as the citizens, the local government itself, and our staffs, by promoting the use of RPA targeting tiresome routine works.
Verifying ROI of RPA tool, WinActor®, through a PoC
We chose WinActor for the PoC as it is fully Japanese-compatible and allows us to develop and maintain the scenarios by ourselves. A typical example that was tested is deposit processing of collected amount at convenience stores which is very complicated as it encompasses 45 account titles contained in 16 tasks and are held by 8 departments. By automating this complex business, we successfully verified significant efficiency equivalent to 440 hours per year as a result of the elimination of human errors and graceful collection of distributed tasks.
Nominating potentially automated business processes from those raised by staffs
Based on the result of our PoC, we decided to deploy RPA. Upon query as to expansion of RPA deployment, as many as 66 business processes, equivalent to 10,000 hours per year, were raised as candidates for possible automation. Looking at actual work places, however, in most cases, staffs are fully occupied with daily tasks whilst they wanted to reform their business. Therefore, IT Section and Administrative Reform Section have been trying to help them extract issues associated with their business, review their work flow, deploy RPA, and realize automation.
Getting higher efficiency using RPA is the first step for KAIKAKU with profit sharing between the citizens, the local government, and its staffs.
Since it is easy to understand the effectiveness brought by automation of routine works, we received much more positive feedback from the staffs than we expected. Also, we noticed the achievements as a result of getting higher efficiency are shared not only to our staffs but to citizens and local government as well, which we believe is the first step of KAIKAKU with profit-sharing among every stakeholders. That is to say, citizens are served with more correct and inexpensive services, the local government is benefited with the higher productivity realized by cost reduction, and staffs can realize both reduction of their burdens and the improvement of work life balance.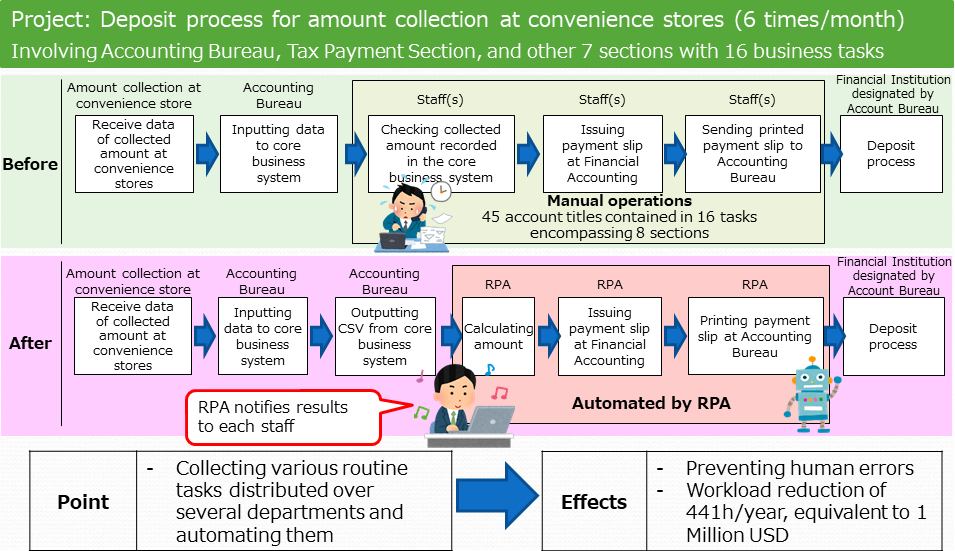 Points of resolutions
POINT

01

Verifying ROI of RPA tool, WinActor®, through a PoC

POINT

02

Reducing burdens of RPA deployment with support by IT Department

POINT

03

Denoting KAIZEN using RPA as the first step of KAIKAKU with profit sharing among stakeholders such as the citizens, the local government, and its staffs