Company Profile
Our company takes Japanese enterprises as the main customer market. Our company mainly engages in mechanics, ships, bridges, iron structures, wooden houses and other activities including engineering design drawings with 2D or 3D CAD. We have more than 500 employees, and can now be considered to occupy the leading position in the industry in China.
Address: 16&17 floor 523 in Huangpu Road High-tech Park Dalian China Founded in 11th of 2010 URL http://www.better-leader.net


Background of introduction of WinActor
(In order to reduce overtime work in the management division, and implement the sharing of information within the business department)
In recent years, the Chinese labor force has been shrinking while human capital costs have been rising. Meanwhile, quality of life has increased and the wage level is now on par with most mid-range developed countries. Due to these conditions, it is essential for businesses to find ways to reduce personnel costs, or improve productivity. This is where WinActor displays its potential. After setting a process and the associated rules for operation, WinActor needs neither rest nor interruption in carrying our tasks. For work that includes a large number of repetitive tasks, costs can be reduced. Since WinActor can automatically and repeatedly process large amounts of data, employees can devote more of their time to higher value-added responsibilities. By utilizing WinActor, human error is likewise reduced--a significant benefit. Human workers are prone to mistakes rising from reduced concentration when inputting large amounts of data over long periods of time, and thus, WinActor protects against these simple mistakes. Once a scenario is built based on specific rules, WinActor is able to carry it out repeatedly on autopilot. With no possibility of error in the results, the risk of costs arising from error-correction is also reduced.


Reasons for Use(cost reduction, eliminate human error)
1. Monthly attendance management
With an increase in the number of company staff, the number of administrative tasks associated with managing end-of-month attendance figures increases, causing more overtime hours for the department responsible. That management department will then need to postpone their regular duties in order to deal with the added work.


2. Salary calculation and tax confirmation
With the reform of the national tax system and the addition of complex deductions, at the end of month the management department must calculate not only the salary of all employees, but also the taxes based on the latest tax system. In addition, it is necessary to download the accumulated tax information of all employees from the national tax statistics system, then calculating the necessary tax paid in the current month, and then modifying and uploading that to the tax system.


3. Relationship between the basic data from customer and business management list.
New information related to customers and the processing of individual cases are transferred and managed in a company management list which is based on the daily data logged in the web management system . Customer feedback should also be managed for the content and evaluation of completed orders. At the end of the month, based on evaluations from customers, the business department should make a request for product cases. However, due to the daily confirmation of web management data and the time it takes for the transferring from the web management list, it is easy to suffer errors. If there are any mistakes in transferring, it would need to be confirmed among the information for hundreds of received products. This greatly increases the workload of managers and affects their daily work routine.


4. Optimizing she sharing of business information for search engines
The primary role of the business is to visit customers to introduce the company's products and conduct negotiations. Before visiting customers, it is essential to collect detailed customer information. If the manager can shorten the time required to confirm customer information by collecting industry information as well as potential customers by internet, they can devote more energy to the preparation of the plan to improve efficiency.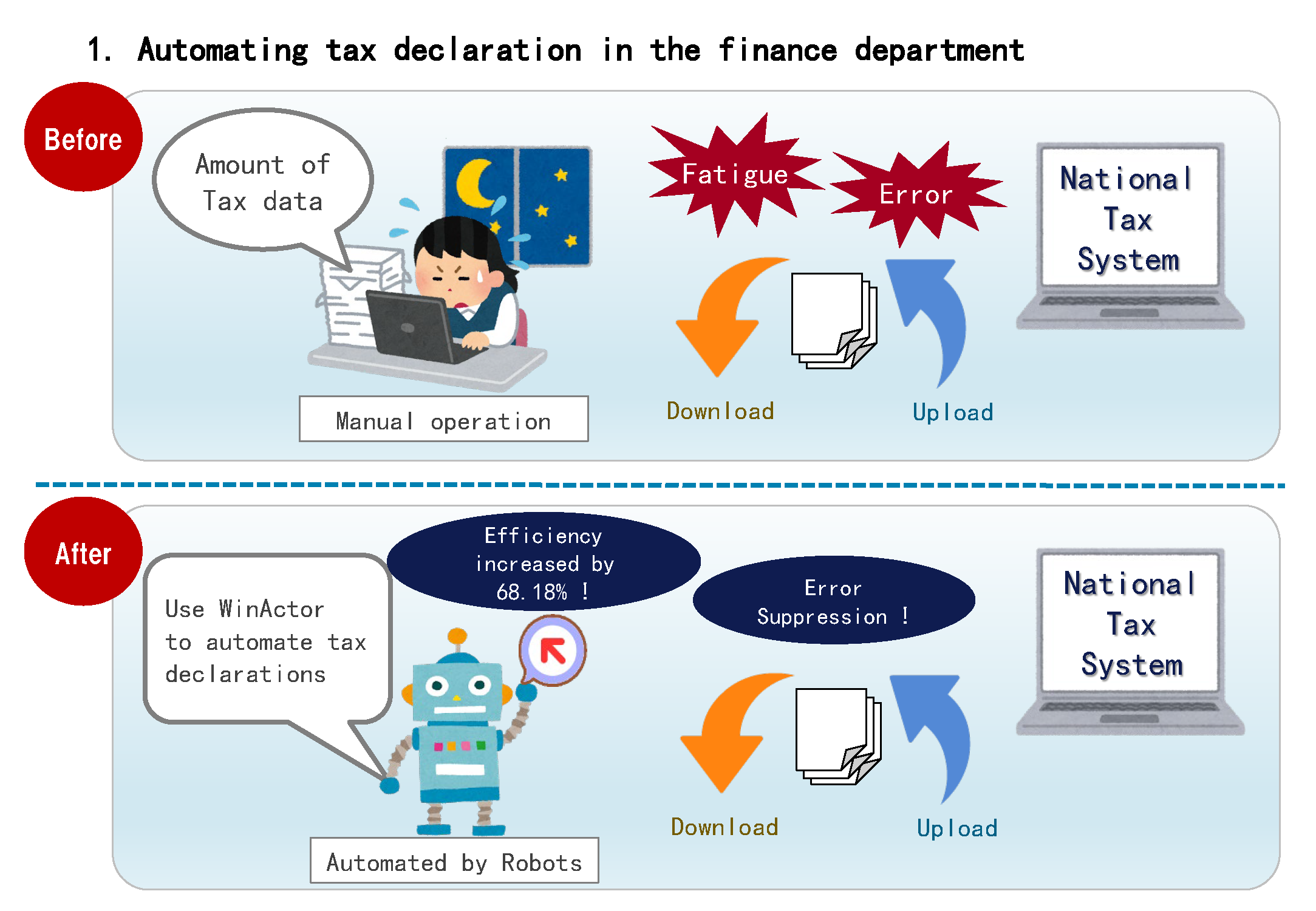 Results of utilizing WinActor
(Save time, improve efficiency, reduce human mistakes)
Initially, our company introduced WinActor for the management of employee attendance in the human resources department. HR staff spent about 93% of their time on repetitive tasks related to the confirmation of attendance. Although the human resources department possessed automated systems, these tools lacked the ability for connection and interaction. The human resources department was required to devote significant time and energy on copying and pasting data from one system to another. The introduction of WinActor liberated the human resources staff, optimized existing HR business processes and helped the department save time, improve efficiency, and reduce human mistakes. As a result, the efficiency of human resources staff working on daily attendance management increased by 73.53%.
Secondly, WinActor was also introduced to the finance department for work related to tax calculations and processing. The last day of the monthly tax declaration period is typically the busiest day for finance personnel. In order to input information into the tax system smoothly, it is common to work all night. Operating these systems for long periods of time, the staff were prone to fatigue which led to errors. After the workflow was executed automatically by WinActor,the quality of the finance department was improved and additional work due to human error was reduced. The introduction of WinActor has greatly saved the time needed for the company to declare taxes, and efficiency has been improved by 68.18% Recently, the working department and business department have also introduced WinActor. The status of individual cases and the management of related information were manually linked to ensure correspondence. Now, managers only need to execute the script, freeing themselves from daily repeated confirmation work, reducing working time as well as costs. Managers save at least 20% of their time, and can invest in more creative and valuable tasks.
Look forward to the future
(the number of enterprises introducing WinActor will increase rapidly in China.)
In 2015, foreign enterprises promoted the use of overseas RPA products to China. In the second half of 2017, accounting firms and consulting firms especially adopted RPA products, with banks also beginning to pay attention. With the beginning of 2019, RPA has greatly improved both in terms of customer acceptance and product maturity. This is the objective background of RPA's rapid growth in 2019. RPA is a general trend for the digital transformation of enterprises. China is facing the rapid reduction of labor in the future, while at the same time, there exists a large number of repetitive tasks within enterprises. Thus, RPA is a very suitable solution. Throughout the practical performance of our company and the effects of other enterprises introducing WinActor, there are two main points.
1. Introduce simplyt
WinActor can be implemented without changing the existing computer system or various application software packages already in use, effectively reducing the risk and complexity of typical IT deployment. It can also save the cost of transformation, and deploy multiple robots to perform the same task simultaneously. Finally, it also has a high level of augmentability, and can be deployed at the lowest cost, while ensuring the quality of work.


2. Operate simply
WinActor does not require a programming language, and through a simple workflow, inexperienced staff can operate and automate complex processes. In addition, since automation is implemented by department and team staff, there is no issue with communication between the working department and the development team. Moreover, in the process, workflow visualizations can also help users understand the automation process and make suggestions for improvement. In our company, staff without SE experience, after two months of basic education and practice training, can reach a sufficient level for basic automation of the business. The low cost of learning this skill is also an important reason to choose WinActor for our company. Based on the above two points, although WinActor is now only promoted in some large enterprises, it is believed that it will soon spread to small / medium-size enterprises. At the same time, it will also expand rapidly to Japanese enterprises in China. Our company provides sales and services in Japanese and Chinese versions of WinActor in China. We will provide good support and service for customers to guide WinActor regardless of their origin.